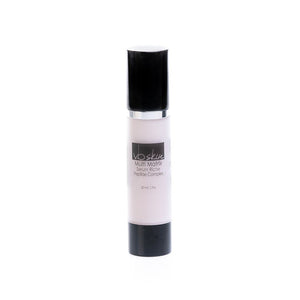 This is no ordinary anti-aging treatment. It has been carefully formulated according to the standards of superior cosmeceutical grade formulas. With a powerful blend of high-potency actives, our creme has been clinically proven to immediately and noticeably diminish the appearance of wrinkles, dark spots and uneven skin tone.  What about the loss of elasticity? Well, you can look to this formula as an effective ally in restoring skin's natural suppleness. Need the perfect under makeup "facelift" primer?
This light-weight moisturizer cream with an innovative ingredient complex is a perfect stand alone moisturizer that decrease the look of visible signs of aging.
Daily use stimulates signs of cell renewal leaving skin looking lighter, firmer and radiant.
Key Benefits:

Diminishes dark spot and hyper-pigmentation
Antioxidants to fights free radicals and strengthens the complexion
Active ingredients formula improves the look of firmness of the skin
Peptides proven to viably improve the structure of skin matrix, reducing scaring and discoloration of the skin
Developed to maintain and enhance the results of post skin tightening procedures and photo facials
Skin Conditions:
Aging, Dull, Devitalized, Rough Texture, Dehydrated, Fine Lines
Directions:
Morning and evening after cleansing, work a small amount into the skin for several seconds. Massage until completely absorbed.
Key Ingredients:
Extract of Jackfruit Seeds
TGF Beta Biomimetic Peptide
Rumex Occidentalis Extract and Ascorbic Acid
Palmitol Tripeptide, Palmitol Oligopeptide and Palmitol Tetrapeptide
Composition:
Water, Hydrogenated Lecithin, Palmitol Tripeptide, Palmitol Oligopeptide, Palmitol Tetrapeptide, Glycerin, Propanediol, Xantham Gum, Shea Butter, Butylene Glycol, Green Tea Leaf Extract, Squale