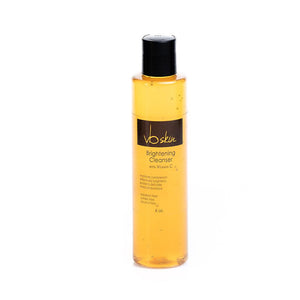 A clear complexion can be achieve with this proven lightening agents to help to help dramatically the skin without irritation.
Normal to dry skin with (or beginning to show) fine lines and wrinkles, sagging skin and discoloration. Mature skin, hyperpigmented skin.
KEY BENEFITS: A Brightening Cleanser

Gently Cleans, no harsh chemicals
Vitamin C for reduction of skin discoloration
Non-hydroquinone skin lightener
SKIN CONDITIONS
Sun Damaged, Dehydrated, Fine Lines, Hyper-pigmented
DIRECTIONS:
Apply to wet skin, and massage in circular motion. Rinse well with warm water.
KEY INGREDIENTS:
Pro Vitamin B5
Bio-mimetic Peptides
Vitamin C
COMPOSITION:
Water, Oligopepetide-68, Butylene Glycol, Hydrogenated Lecithin, PEG-4, Vitamin C Ester, EDTA, Ethylexylglycerin, Caprylyl Glycol, Hexylene Glycol, Sodium Oleate, Glycerin